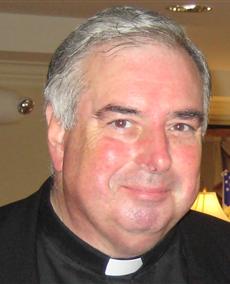 Reverend Keith Roderick
The Very Reverend Keith Roderick, a man dedicated to the relief of the suffering church at the hands of radical Islam passed away in his sleep in March of 2014. He will be greatly missed by all of those who worked with him to relieve the suffering of the faithful all over the world. Details of his passing can be found here.
The Very Reverend Keith Roderick began as Provost of the Cathedral Church of St. Paul the Apostle in Springfield in 2013. Previously, Fr. Roderick was the Rector of St. Andrew's Episcopal Church in Carbondale, Illinois, Dean of the Hale Deanery, Vicar of St. George's Episcopal Church in Macomb, Illinois and Dean of Quincy, where he served as the only Canon for Persecuted Christians in the Episcopal Church. He served on several Committees and departments for the Diocese of Springfield.
Father Roderick had had a long history as an advocate of human rights having served as Executive Director of the Sudan Campaign, where he met with President Bush in the White House regarding the continued violence in Sudan. He was the Washington Representative in Washington, D.C. for the Swiss based Christian Solidarity International. Father Roderick regularly met with members of congress and several presidential administrations.
He founded the Society of St. Stephen in 1982 that worked on behalf of religious prisoners of conscience and their families in the former Soviet Union. He served as the Co-Director of the International Task Force, formerly The Task Force on Soviet Jewry. He presently serves on a number of boards for international organizations, as well as, being the Secretary General of the Coalition for the Defense of Human Rights. He worked with leaders of the minority communities in the Middle East to promote security and equality. He was frequently asked to serve as a speaker and to be interviewed by various national and international media.
Father Roderick leaves his wife, Mary Beth, six children, Seth, Micah, Noah, Sarah, Joseph and Susannah.