Help a Christian Refugee Child!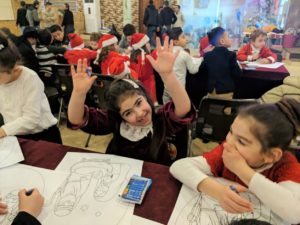 This year, more than 10,000 children look forward to Christmas for Refugees events in Lebanon, Syria, Iraq, Jordan, Nigeria, and Bethlehem in the West Bank. As the Christian population is persecuted and continues to decrease in these areas, Christian parents find comfort in having a place where their children can be well taken care of and be in an environment of faith.
The Christmas for Refugees program provides Christmas celebrations for persecuted Christian children and gives them a safe, fun-filled celebration fully centered around the birth of their Savior.
Our goal for these events is to instill in the children that regardless of what has happened to them, the Lord is still there for them and that He still loves them.
Please help us provide these fun-filled events, where children receive food, security, gifts, and sometimes hygiene kits and blankets to take home to their families. Your donation can help a refugee child have a Christmas Day celebration.