Hundreds of thousands of Christian families with children in the Middle East were driven from their homelands by brutal wars. Some of these families are the descendants of men and women led to follow Jesus by his Apostles. The families are now returning home and are desperately trying to rebuild their lives amidst continued persecution for their faith.
Help us reach out to care for these struggling Christian families who continue to face persecution. Many organizations are providing aid to Muslim refugee families, sadly Christians are seen by many Islamic charity groups as "kafir" or unclean infidels and they receive no help. We help these Christians!
Help us provide a special event to persecuted Christians in Lebanon, Syria, Iraq, Jordan, Nigeria, and the West Bank. Help us make this one special day, on Christmas, a little brighter for some of the children who have not been able to celebrate Christmas in the way they once were able to. We can't end hunger and fear for every child 365 days a year, but we can start by showing God's love on this one special day.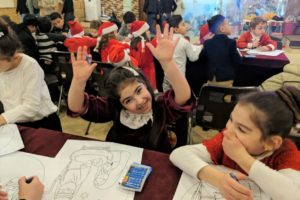 Our Christmas events normally range between 100 and 700 kids in Jordan, Lebanon, Iraq, Syria, Nigeria, and Bethlehem. But this year the Covid-19 situation will force me to arrange for smaller and therefore many more events. This will bring up the cost… can we do it?
[Read More...]