Hundreds of thousands of Christian families with children have been driven from their homelands in Iraq and Syria by brutal wars. Some of these families are the descendants of men and women led to follow Jesus by his Apostles. The ancient churches of Iraq and Syria have been looted and destroyed and the families of these congregations forced off the land.
Help us reach out to help these frightened and suffering Christians who were driven from their ancient homeland. Large Islamic charity organizations, as well as the Islamic governments, are providing relief to Muslim refugee families from Syria. Sadly, Christians are seen by many Islamic charity groups as "kafir" or unclean infidels and they receive no help. We help these Christians!
Syrian Christian refugees in Jordan and Lebanon can be counted in the tens of thousands. Once living in middle class homes, they are now homeless. Help us make this one special day, on Christmas, a little brighter for some of the children in the refugee camps. We can't end hunger and fear for all of these children 365 days a year, but we can start by showing God's love on this one special day.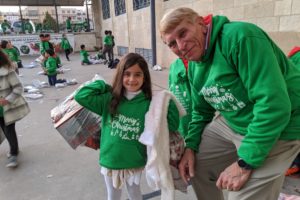 Two Christmas for Refugees events were held in the Holy Land this year. Please pray for the Christians of the West bank, particularly the children. As far as Israel is concerned, they are Palestinians and not welcome in Israel. They are unwanted by the Muslims that control the West Bank and unwanted by Israel. They are literally refugees in the land where their families lived long before the time Jesus was born there.
[Read More...]