Christmas for Refugees 2019 held amidst strikes and demonstrations
The problems in Lebanon: My wife Nancy and I were scheduled to leave for Beirut, Lebanon on December 5th on Air France as part of an 18-day inspection tour of Christmas for Refugees events. The day before we were to leave, I received a notice from Air France of a nationwide transportation strike in France beginning on our departure date.

In the email Air France noted that it would "try" to operate all "long-haul" flights including those to and from the United States. We were given the option to change flight dates without a penalty. To do so I would have had to change all transportation and hotel arrangements for four nations.
Trusting the Lord always brings out the best results. After some prayer I decided to just head to the airport on December 5th. Fortunately, the flight did operate to Paris but then there was some question as to the connecting flight to Beirut. Again, the Lord provided and the connecting flight to Beirut did operate. The employees that cater the flights were on strike so there were cold sandwiches served which the crew picked up at a store on the way to the airport.
We arrived in the late afternoon of the 6th which was great, but there was another issue. Nationwide demonstrations had shut down streets, and in some places, entire areas of cities. The massive demonstrations had forced the Prime Minister to resign. At virtually every corner of major streets in Beirut there were armed Lebanese soldiers.
Our ministry partners in Lebanon had been forced to change plans for several of the Christmas for Refugees events. At some we could no longer serve a hot meal, but these, as well as all the events for 2,000 children will be held this year.
Because of the schedule changes Nancy and I would only be able to attend two events in Beirut before leaving for Iraq. Both Christmas events were a blessing to the children who attended and a blessing for Nancy and me to participate in. It is always a joy to watch the children as they forget, at least for a few hours, the situations they have been forced into as refugees. The Christmas programs in Lebanon continued until Christmas week, and were a blessing to many.
The majority of the children at each of the events were Syrian refugees. At the first event at a refugee center all the planning and presentation was done by Syrian volunteers who have fled jihad attacks in Syria.
Often at the Christmas events for the Christian refugee children in Lebanon there are women, including volunteers, who show up in either a hijab or a full black burka. These women love the Lord and are sometimes the most vocal in singing praises to the Lord.
Sadly, over the years I have felt it necessary to edit out the ladies wearing hijabs or burkas from pictures and videos for their own protection and because of misunderstandings that supporters may have seeing the photos. This year we will show some, but not their faces.
Please don't look at a photo and say to yourself, "What are Muslims doing there?
Some of these saintly women are in family and other situations such as living arrangements that make it impossible at least for now to shed traditional Muslim type clothes.
One lady in particular told me how her son was cured of a serious illness by the Lord after she prayed with a pastor. She now works in the church, constantly volunteering, but still in a full-length burka.
It was miraculous at one event where several of the mothers wearing burkas at the back of the room stood up and sang praises to the Lord with the children. God has His hand on, and is moving many of the families we help to the Lord.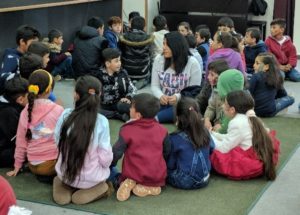 The first event in Lebanon was held in a space rented by a church for Syrian Christian refugees to meet and held only about 90 children.
The second Christmas event for children in Beirut was held in a Baptist church and we had 160 children present. Because there was more space, there was room for a more sophisticated puppet show exploring the birth of Jesus and what it means to each of us. In all, there will be as many as twenty Christmas for Refugees events in Lebanon as circumstances allow, in many different church denominations including Catholic, Orthodox, and Wesleyan.
We are trying to reach as many children from traditional Christian families as we can, particularly those with broken faith who no longer attend church. There are follow up programs by the individual churches to reach children whose families have broken bonds with the church as a result of war.
William J. Murray