Christmas for Refugees Events Begin Soon!
Christmas for Refugees programs will soon begin: Despite all the demonstrations this year in Lebanon that forced the prime minister to resign, our Christmas events are being held!
More than 2,000 Christian children forced from their homes in Iraq and Syria by groups such as the Islamic State will have a real Christmas, one far better than their refugee parents are able to furnish for them.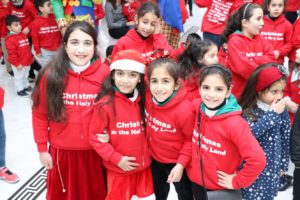 My wife Nancy and I leave for Lebanon soon to oversee some of the programs there. The Christmas programs in Lebanon are smaller, with just 100 to 200 children each, but they are held all over the country during December. The children must be bused to most.
The programs in Syria will be conducted again this year by our Lebanese partners!
We will be able to visit only three of the Christmas programs before flying directly to Iraq where we will be for six days. The Christmas events there sometimes number as high as 700 to 800 children each, and we will be present for all of them, including those in Bartella and Qaraqosh.
This will be the first time we will hold a separate Christmas event for Syrian Christian refugees who have recently fled to Iraq.
Syrian refugees coming to Iraq is a reversal. Tens of thousands of Iraqi Christians fled to Syria after the 2nd Gulf War. Now, many Syrian Christian families, especially with wounded or special needs members, have headed to the Nineveh Plain to be near other Christians.
We want to bring joy and hope to the children of these Syrian refugees in Iraq!
From Iraq we will go to Jordan and visit all three of our major Christmas programs there in Amman, Kerak and Fuheis.
A few days before Christmas Nancy and I will travel to Bethlehem in the West Bank. This year we will hold two Christmas events in the West Bank, one in Bethlehem and the other in Beit Sahour. Last year we were able to hold only one event for Christian children. I pray we can add another two Christmas celebrations there next year.
William J. Murray, President