Christmas for Refugees Program at Nigeria Orphanage
Christmas in Nigeria: I was unable to attend the Christmas programs at the orphanage in Nigeria we support. This was a disappointment to me but my schedule that included Lebanon, Jordan, Iraq and the West Bank towns of Bethlehem and Beit Sahour would not allow a visit.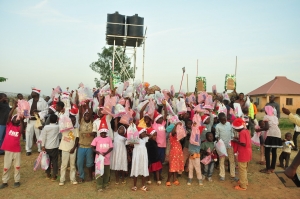 A good friend of the Religious Freedom Coalition and Nigeria expert did fly to Nigeria to monitor the Christmas programs and to inspect the overall progress at the orphanage in Plateau State.
The Christmas program in 2019 was the third we have held at the orphanage in Nigeria. At all times we must be reminded that most of the children have lost both parents to Islamic groups such as the Boko Haram and Fulani Herdsmen.
In Plateau State most of the murders of Christians are by Fulani Herdsmen who drive them off their farmlands. Not much is done by the government to curtail the violence against Christians because the current president of Nigeria is a Muslim and a Fulani Herdsman.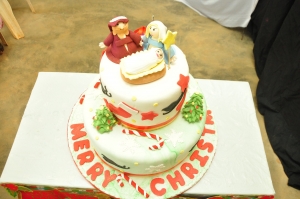 Just as was done for Christmas in 2017 all the children received shoes again in 2019. The day long Christmas celebration included puppet shows and each age group performed in a celebration of the birth of Jesus.
Some age groups sang, and others performed dances. There were also Bible recitations and prayers by the children.
When the owner of a bakery in the nearby city of Jos heard about the Christmas program at the orphanage, she prepared a special cake for the children with the Nativity scene on the very top.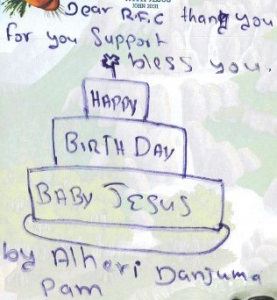 Every child at the orphanage sent a thank you card to us. The teenagers' cards expressed gratitude and the youngest child drew a smiley face.
The cards were hand carried back to the United States by Brother Emmanuel who was kind enough to fly to Nigeria in my absence and oversee the events at the orphanage.
Looking ahead for the orphanage: I do not mention the name of the orphanage or mention the exact location in Plateau State in this newsletter for security reasons. Two years ago, there was a massacre of Christian farmers just a few miles from its location. The situation is dangerous enough and I do not want to make it more dangerous for the children or their care givers.
Because of the continued killings of Christians, the number of children at the orphanage has risen. Most of the children have lost one or both parents to Islamic jihad. Most are from further north in Nigeria where Sharia law is in effect and there is no justice for Christians. However, as the Muslim herdsmen expand south there are more and more displaced Christians in majority Christian states.
William J. Murray, President