Iraq Christmas events a blessing
I could not begin to attend and review all the Christmas programs held by our Christmas for Refugees program in the Middle East. There are simply too many. For Lebanon, Iraq, Jordan and Syria combined more than fifty programs were planned.
The first Iraq Christmas event we attended was in Bartella which is a majority Orthodox Christian community. The Bishops and priests are very friendly to other denominations including evangelicals. Unlike Catholics, the Orthodox priests can marry. Two of the priests brought their children to the Christmas event in Bartella.
The daughter of one priest was the lead singer of a hymn by a choir for her age group and another priest's wife worked with our staff to coordinate events.
In all 570 children attended the first Christmas event in Iraq. That is a lot of children to watch over, so they are separated out by age and gender at different tables. No church there is large enough, so we rented a large wedding hall.
The halls are so large that taking a photo of an entire event is very difficult.

The Christmas event in Qaraqosh was attended by over 500 children as well and was extremely orderly. For the most part the program was organized by volunteers from the church. The Christian community is very different from the majority Muslim culture that surrounds them. In the Christian culture women are an important part of the society. Both the Bartella and Qaraqosh events for the children were managed by women. The overall organizer of each event was a woman.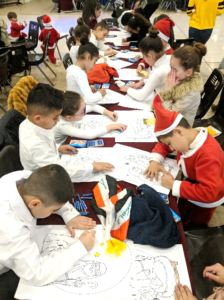 At both the Bartella and Qaraqosh events virtually all the children were associated with churches, and their behavior was very good for the number of children present. When the Gospel message was presented many prayed to be closer to Jesus.
At our event in Erbil there were some behavior issues as many of the children were Syrian refugees who were far from their churches and pastors. Church discipline was obviously lacking but overall the event went well with a great number of the children praying to be closer to Jesus.
In Iraq our ministry partner is working on ways to better reach out to families that participate, and to provide them spiritual support. The same is true of our Diapers for Refugees program. We want to do more than just provide a service; we want to help families get connected to a local church and develop a lasting relationship with the Lord.
This year we had to reduce the age range to between 5 and 10 because of the increased number of refugees from Syria.
William J. Murray