ISIS Launches Anti-Jordan Campaign
Last week, the Islamic State claimed responsibility for the December 18 attack in Karak, Jordan, which killed ten people and injured 34 others.
Following the attacks, pro-ISIS social media users, especially on the Telegram, posted pictures and messages celebrating the attack and the harm and hurt that it came from it. Many of these posts also included a number of threats, including: ISIS continuing to attack Jordan, the assassination of King 'Abdallah, and target security forces and clerics who cooperate with the government. One post even threatened "Crusader" (Western) tourists who visit Jordan, saying they will not be safe in Muslim countries.
Two days after the attack, the pro-ISIS Al-Battar Foundation posted a series of posts and banners about the attack on its Telegram channel. One post said that Jordan is an open battlefront of ISIS soldiers: "All Jordanian soldiers, police, sheikhs, mosque preachers, information activists, and regime supporters are legitimate targets for the mujahideen's bullets and knives. All of Jordan is an open battle front for you, oh you apostates."
Another post read: "Today we take vengeance on you, oh you apostates. Today we avenge the women and the children you killed by bombing the cities of the caliphate. Today we bring joy to all those who lost their loved ones, the widows and orphans, and quench their thirst for revenge," as a response to Jordanian airstrikes on cities controlled by ISIS.
A third post vowed that ISIS will strike the capital of Amman: "You bomb innocents in Al-Raqqa, while we strike against your soldiers and Crusader masters in Al-Karak, and tomorrow, with Allah's help, we will strike the heart of Amman."
Other posts directly threaten tourists visiting Jordan: "Oh, Islamic State men in Jordan – do not make do by simply supporting. Become soldiers who kill the crusaders and apostates, and cause the dwarf tyrant [meaning King 'Abdallah] to lose sleep. Oh, you Crusader tourists – you have seen what we did to you in Al-Karak. You will not be safe in Muslim lands."
The banners also lash out at clerics, especially Abu Muhammad Al-Maqdisi and Abu Qatada Al-Filistini, both associated with Al-Qaeda, accusing them of collaborating with the Jordanian regime and boasting that ISIS avenged the death of Sajida Al-Rishawi, a female jihadist that was executed by Jordan in reply to the burning alive of the pilot Mu'az Al-Kasasbeh: "Die in your rage, oh donkey of religious rulings, we have avenged our mothers and our sister Sajida, may Allah accept her soul. The attacks avenging her did not stop in the past, and will not stop in the future."

The Al-Wiqar Foundation also posted several banners on its Telegram channel following the attack. For example, one banner mocked Jordanian rulers, who spent a fortune trying to combat ISIS but are unable to stop a cell operating freely in Karak: "Oh, the shame of the tyrants and their soldiers! You collected funds and men to fight the caliphate. And here they [ISIS fighters] roam [freely] in the heart of your home." Another banner addressed King 'Abdallah, saying: "The tyrant of Jordan: Dealing with an unclean hand is to cut it off. This process began in Al-Karak." A third banner threatens that the Karak attack was merely the beginning: "The donkey of religious rulings, Al-Maqdisi – tell your masters that this was our revenge for our sister Sajida Al-Rishawi. The Al-Karak raid was only the first rainfall. The future will be even worse and bitterer."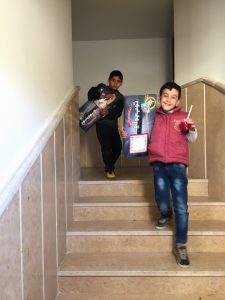 The day of the terror attack in Karak, Jordan was the same day as the first Christmas for Refugees program in Amman, Jordan's capital. There have been an increased number of terrorist attacks in Jordan as many Islamic extremists are returning to Jordan from Syria. Despite the attack in Karak, the Christmas for Refugees program continued on and served hundreds of displaced Christian children by hosting a Christmas program for them that featured puppet shows, games, activities, coloring books, a traditional Christmas meal and hygiene or food bags to take home to their parents – all while learning the joy of the Gospel.
The Christmas for Refugees program also serves displaced Christian children in Iraq and Lebanon. To find out more about the Christmas for Refugees program, click here.