More Than a Christmas Party
Last year for the first time, the Christmas programs were extended to the few areas of the "West Bank" that are still Christian. In 1948 when the State of Israel came into existence, the "West Bank" was 86% Christian. Now it is 2% Christian. The Christian community is no longer self-sustaining and as a result is a persecuted minority.
I cannot begin to describe the joy for the children and their parents as children from different denominations were able to come together and celebrate the birth of Jesus.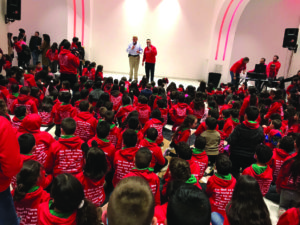 We also took the program to Syria in 2018. We actually held some of the Christmas programs in Christian towns that had only recently been liberated from extremist Sunni Muslim fighters by the Syrian government. (NOTE: It is not possible to hold the programs in the northeast section of Syria occupied by the United States. It is too dangerous.)
The overall average cost of the program is about $30.00 per child, but the cost varies according to the area: Lebanon is very expensive, Syria is very cheap. In Iraq and the "West Bank" we are able to host more complex programs.
The cost includes the safe transport of the children to the rented hall or church we have arranged to use. Often they are picked up by buses at set locations. They attend a full program lasting several hours that includes the Gospel message in several forms including clips from the Jesus film. There are hymns and games that teach Christian truths. The children receive a hot meal and an age and gender specific gift.
Some of the cost is material aid for the families of the children — which varies from location to location. Most often the family gift is a hygiene kit, but in the cold mountains of Lebanon we have given blankets to the families.
In Lebanon and Jordan all the children are Christian refugees from Syria and Iraq. Now, there are actually Syrian Christian refugees who have fled to the areas of Iraq we serve. In Iraq we are helping Christians who have been displaced and are trying to rebuild their lives. They returned to looted and burned out homes. A family that cannot afford to buy a washing machine or refrigerator cannot afford a Christmas for their children.
I do not want to leave out even one child this year that participated in our programs in 2018. I would like to be able to invite some of those we were not able to accommodate last year.
PLEASE PRAY: Please pray that over the next two months we will be able to raise the funds needed for Christmas for Refugees and at the same time have the funds for the Diapers for Refugees program for December!