Preparations for 2019 Christmas Programs
The deadline for Middle East Christmas programs: Black Friday, the day after Thanksgiving, is the day most Americans start thinking seriously about Christmas (even though the Christmas decorations start to appear in Walmart in mid-October).
Thanksgiving is on November 28th this year. My wife Nancy and I leave for the Middle East just redacted days after Thanksgiving, and our first events in Lebanon will be held on December redacted. The Christmas programs must be fully funded, and all funds transferred to the Middle East and Nigeria weeks before Thanksgiving, and weeks before we leave for Lebanon.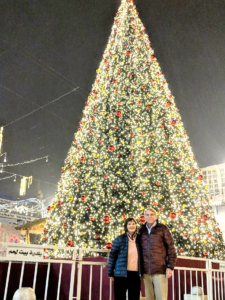 Because of the logistics and areas we serve, the Christmas programs for the children will be held from early December to Christmas Eve. The events closest to Christmas Day will be held in Bethlehem and Beit Sahour.
I look forward to standing once more in front of the giant Christmas tree that is still allowed in Manger Square by the Palestinian Authority!
But before we get to those final days in Bethlehem and Beit Sahour, the Christmas for Refugees program must be fully funded a full month before Thanksgiving. By the end of October, only $33,682 of the $97,225 matching challenge had been met.
Stay tuned for updates regarding this goal!