WE DID IT– Christmas programs will continue
Incredible gifts answer prayer: I reported in the November newsletter that the Christmas program was far behind in fundraising. I even mailed a special letter to supporters detailing the problems this year and asking for prayer and support for the Christmas for Refugees program.
The Lord answered our prayers! I received calls from several supporters who have helped the Christmas program since the beginning! Many long-time supporters called me and pledged to help meet the Christmas matching fund so the funds could be released.
As the Lord led supporters and the donations were received, I was able to reinstate programs that had been put on hold in Lebanon and war-torn Syria.
But the Lord was not done answering prayer and hundreds of other supporters sent gifts to help the Christmas for Refugees program fulfill even more of the goals that had been set for this year.
By December 1st I was able to restore most of the Christmas programs.
Christmas for Refugees is not just Christmas parties and gifts for children. Christmas for Refugees is an affirmation of the Lord to children who have had their childhood stolen from them by Islamic terror.
The programs center around the Lord through presentations, games, contests, music, and an invitation to accept or reaffirm a relationship with the Lord Jesus.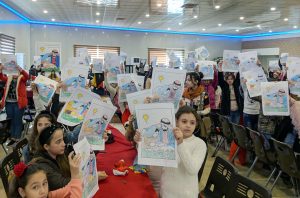 The coloring contest of the Nativity scene is an example of keeping Jesus at the center of every event.
These are children who fled with their families from a routine that included church relationships. Many of the families lost their homes and their churches were destroyed. There are still many places in Syria that are controlled by Muslims who hate the secular state.
Christians who have returned to Syria have found ruin. That is why many of our Christmas programs are now in Christian areas of Syria Please pray with me for all the displaced Christians of the Middle East and Africa.
William J. Murray, President