Christmas for Refugees Events Begin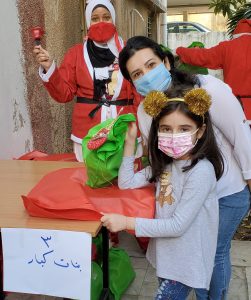 Lebanon: This year there will be more Christmas events held here for children than in the rest of the Middle East because the events will be smaller. In most instances children will walk through one at a time indoors, but because of local rules, some will be held outdoors.
Often volunteers will dress up as elves in red and white outfits. This is done by Christians in the Middle East to let others know they are Christians. We have held events in previous years when every child attending showed up wearing red and white.
The Gospel is still present. The children are receiving Christian books, workbooks and even coloring books that present the Gospel.
We are working toward doubling the number of children this year in Lebanon. The first small event was held outside, and I have just received some of the photos.
Preparations are also being made by our Lebanese partners to hold several events in Christian areas of Syria for about 3,000 children. Some of those events will be more traditional, with a meal and a program. Precautions will still be taken because of Covid-19. Most events will be held indoors with music and displays of the Nativity, but none of those will be held until dates closer to Christmas.
Matching gift program challenge not yet met: The last transfer of funds to Middle East ministry partners for Christmas for Refugees events will be made this week!
But He said, "The things which are impossible with men are possible with God." Luke 18:27 (1599 Geneva Bible)
God directed many of our brothers and sisters in Christ in Lebanon, Jordan and other Middle Eastern nations to volunteer despite the Covid-19 threat. Thousands of children must be guided through the process, and each handed a gift by someone.
Praise God for all of those who came forward to help despite the dire situation that some were in themselves.
The number of events has increased because in many areas the number of children invited was limited by authorities.
Only two small events have taken place so far, and the process we developed for this Covid-19 era is working. Both were in Lebanon, but the same plan, for the most part, will be carried out in every nation except Nigeria.