Christmas in Nigeria
The first Christmas for Refugees event at the orphanage we support in Nigeria was in 2017. All the children received new shoes, and for many it was the only pair of shoes they had. Some of the children walked barefoot and carried the shoes because they were the most valuable thing they owned.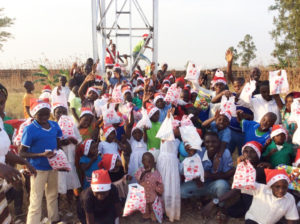 In 2018, I visited the orphanage for an Easter event we sponsored and saw firsthand the needs. That is why we drilled new wells, built new water towers and ran new water lines. Toilets that could be flushed were added as well.
Christmas of 2018 was joyous in the orphanage because the children and those caring for them had a far better place to live. In the photo at right you can see the joy of the children as they hold up their gifts while standing in front of the new water tower we built for them.
I will not be able to go to Nigeria for the Christmas celebration this year, but plan on once again going to inspect the facility and meet with those at the orphanage in spring of 2020.
Last month there was gunfire from a conflict with the Muslim Fulani Herdsmen so close by that it could be heard in the orphanage. Moving the children elsewhere is not an option at this point, and for now, the orphanage is in a buffer zone that offers some security.
The children are eating better thanks to our programs. The farm crop is coming in! Please pray that all will be safe at the orphanage and pray that we will be able to hold a Christmas for Refugees event again this year and give each of the children a useful gift.