Matching Fund Underway!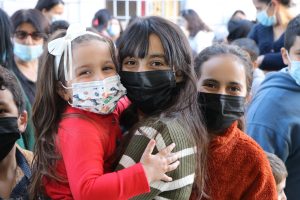 Please pray with me that Christmas for Refugees will be a success again in 2021!
For the last nine years, tens of thousands of Christian children displaced from their homes because of attacks by Sunni Muslim jihadists have had a real Christmas thanks to our Christmas for Refugees programs.
Despite the disruptions and lockdowns caused by Covid-19 during 2020, Christmas programs were held for displaced Christian children in Lebanon, Jordan, Syria, Iraq, and in Nigeria. Last year was the third year Christmas programs were held in war torn Syria where events were held for 3,823 children in many different areas including the Valley of the Christians.
The Christmas for Refugees programs have become a tradition in several nations, showing the love of Christians here in America for the Christian children who have suffered so much under Islamic oppression.
The children receive an age-appropriate gift that contains Gospel materials. In some areas they receive children's Bibles!
The children's parents will receive either a box of hygiene supplies, blankets, or food, depending on the location and need in that area.
But the single most important part of the program is an invitation to trust the Lord as their Savior, and to say a salvation prayer. Even in situations where the children have to walk through events, they are reminded of the importance of Jesus in their lives.
Can we make the tenth year of Christmas for Refugees as successful as previous years?
Almost $390,000 is needed to make real Christmas programs possible for the same number of Christian refugee children who participated last year. The costs will be high because many smaller events must be held rather than the fewer but larger events of the past.
Our Christmas events normally range between 100 to 700 kids in Jordan, Lebanon, Iraq, Syria, Nigeria, and Bethlehem. But in 2020 and again this year the Covid-19 situation forces us to arrange for smaller – and therefore many more – events.
A generous group of supporters – The Leadership Circle – have teamed up to do something incredible!
By pooling their resources, the Leadership Circle has set up a matching gift fund for Christmas for Refugees again this year, as they have in past years.
All gifts sent for the Christmas programs right now will be MATCHED 100% by the matching gift fund the Leadership Circle has set up.
That means your gift will make Christmas possible for twice as many children!
In order to be able to access the full matching fund I need the help of supporters such as yourself. If you and other faithful supporters reach the matching goal, we will have as much as $280,000 toward the $390,000 needed for Christmas this year!
Any gift you send now for Christmas for Refugees will be doubled!
Remember — your gift is for far more than just a Christmas party for children. Your gift offers hope through our Lord Jesus Christ to the most oppressed people in the world at a time when it seems to them that all has been lost.